My London World Tour day started really early since I live in Streatham and I needed to be at the Excel Centre at 8:00. Last year, I was honoured to win the #AwesomeAdmin Trailblazer Award, complete with a Golden Hoodie, which I wore on the train.
Once at the Excel, people involved in the London Women in Tech and I met Tony Prophet, Salesforce's Chief Equality Officer, before the Women's Network Breakfast. Tony was super friendly and listened to our thoughts about the importance of diversity and inclusion, mental health support at work, and what we can do to to improve the Ohana for women and other underrepresented groups. In addition to being a really down to earth guy, he's great at taking selfies.
After meeting with Tony, I headed into the Women's Network Breakfast, which Tony kicked off, along with Doina Popa and Sophie Crosby. Tony shared what Salesforce is doing to help their staff to bring the whole selves to work. An Islamic woman and a Christian man started Faithforce, a community for all faiths. Tony went to Pride in Hyderabad last year, which coincided with that office's launch of Outforce (a community for LGBTQ people and allies). After the Pride event, one person in the office felt empowered to come out at work.
The theme of the event was mentorship. Tony asked us "Who is mentoring you right now and you don't even realise it?" He explained that mentorship doesn't always need to be a formal arrangement, and it might be even better if it's a bit more organic. He recognised Molly Ford as a mentor of his who started the Equality Team at Salesforce and helped him when he joined Salesforce. Tony stressed the importance of inclusive hiring because it's important that both the board room and the front lines match what society actually looks like.
Sophie Crosby was my table leader as well as a speaker, who has spent her career in the music industry developing teams and supporting emerging talent. She explained that the "people on a team are what make it successful." She was wearing jeans and boots and joked that "This is my true self, I can't wear business suits. It may limit me later, but it's who I am." She encouraged the audience to not let the negative internal voice that makes us mistreat ourselves and underestimate ourselves win. She really inspired me. In between speakers at the event, the table leaders led us in discussions about mentorship. I really liked the format because I got to meet new people and have really interesting conversations. Sophie even encouraged one woman from our table to share her own experiences with mentoring to the entire room.
After the breakfast, I was filmed by the Salesforce LIVE team to get my take on the breakfast. The video should be out soon!
Since there were so many Trailblazers at World Tour, I watched some of the keynote from an overflow area. One of the highlights for me was watching my friend, Gemma Emmett, get the #AwesomeAdmin Trailblazer award. Gemma's inspired me to start on the Architect track of Salesforce certifications with her Ladies Be Architects group. Check out a video about Gemma here.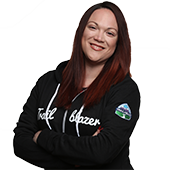 Another highlight for me was learning about Astriid (which stands for Available Skills to Train, Refresh, Improve, Innovate, and Develop), a charity that Salesforce employees helped Founder David Shutts develop on Salesforce. When David Shutts was diagnosed with kidney cancer, he found being jobless really challenging and wanted to help other people in a similar situation. Astriid connects people with long term health problems to employers. David Shutts has passed away since World Tour, but his amazing work lives on.
Next I went to volunteer at the Community booth in the Trailhead area. I spoke with a ton of people about how to get involved in local user groups and community events like London's Calling, Surf Force, and Inspire East. I've personally met so many amazing people in the community (Todd and Stefanie featured below). Through the Speaker Academy program and the RAD Women program, I've learned about public speaking and Apex code! The Ohana has definitely helped both my career and my social life, so it was great to introduce people to it.
The rest of the afternoon, I checked out talks at both the Admin and Developer theatres. Stefanie did a talk about her certification journey, and Kerry did a talk about her Top Tips for Adoption. The picture below is of the big crowd watching Kerry speak. They're super engaged!
My last event of the day was watching the Dreampitch competition, where entrepreneurs pitched to a panel of judges, which included James Caan, Jacqueline de Rojas, and Dale Murray. One of the most interesting points for me was when Jacqueline asked Jin Chen, CTO of Digital Fineprint, "I noticed your team is all men. Does that reflect the market?" He replied that "We didn't really think about gender until now." It was really interesting to see Tony Prophet's words from the Women's Network echoed in a real business scenario. The winner ended up being superstar Liz Fulham, founder and CEO of SalesOptimize, which is a sales lead generation and market intelligence platform. I felt that her pitch was definitely the most impressive, so it was exciting to see her win!
I finished off the day in the photo booth with a dance my colleague from makepositive, Johnny and Einstein.  I always enjoy the World Tour in London since it's a great day to learn, be inspired, and connect with people. I'll definitely be back next year!